Venue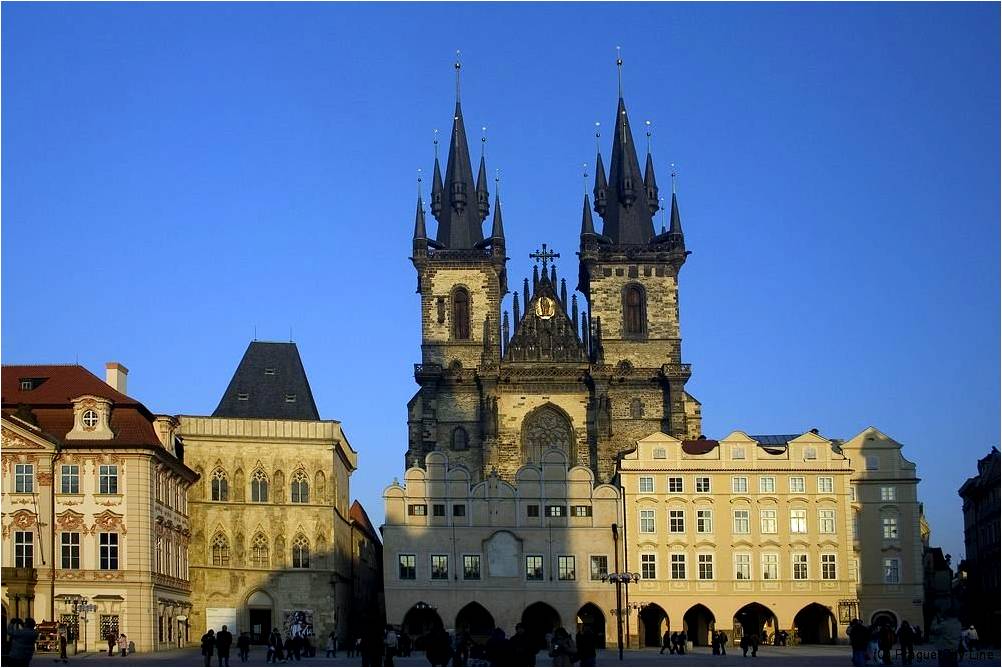 Prague - historical pearl of Europe - is one of the most beautiful cities in the world. Since 1992 the historical core of the city covering 866 hectares has been listed in the UNESCO World Cultural and Natural Heritage.
Usually Prague is called "golden" and "a hundred towers", but it is sure, that it belongs amongst the most beautiful cities in the world. The charming river Vltava, which enhances the city´s beauty, forms wreathes resembled to silver string. Many of the city´s dominants are reflected in the river, towers, the cathedral dome, the palace and many houses,greeness of the gardens and islands. Many bridges form the old city complex, which is situated on both sides of the river. It is compared with Rome because of its place aside a river fold. The city, which is in perfect unity with its river, is spilt into an impressive area beside the Old city weir between the Old city itself and the Little side.
Prague is a major transport hub in Central Europe. Accessibility, whether by air, road or rail is very good. Prague has a sophisticated and well-functioning public transport system, which consists of trams, buses and a modern metro. The network of public transport is among the densest in Europe.
More information... www.praguecityline.cz
Arrival
By plane
Vaclav Havel Airport Prague arrival (Letiště Praha)
bus Aiport Express:  Letiště - Dejvická station
   travelling time:  cca 20 min
   price: 40 Kč - tickets are sold by driver, city transportation ticket (MHD ticket) is invalid
bus nr. 119:  Letiště - Dejvická metro station
   travelling time: cca 30 min
   price: 26 Kč - city transportation ticket is valid (MHD ticket)
By train
Prague main railway station arrival (Praha - Hlavní nádraží)
metro: line C - direction Háje
   at Muzeum station change to line A - direction Dejvická - entrance Evropská
   travelling time: cca 30 min
   price: 26 Kč - city transportation ticket is valid (MHD ticket)
By bus
Prague Florenc - bus station (Autobusové nádraží Florenc)
metro: line C - direction Háje
   at Muzeum station change to line A - direction Dejvická - entrance Evropská
   travelling time: cca 30 min
   price: 26 Kč - city transportation ticket is valid (MHD ticket)
metro: line B - direction Zličín
   at Můstek station change to line A - direction Dejvická - entrance Evropská
   travelling time: cca 30 min
   price: 26 Kč - city transportation ticket is valid (MHD ticket)
 
Stations close to hotel Diplomat
tram station: nr. 2, 20 and 26
station for buses: nr. 107, 116, 119, 143, 147, 160, 161, 180, 218, 312, 316, 340, 350, 355, 356, 359
more information about transportation - Dopravní podnik hlavního města Prahy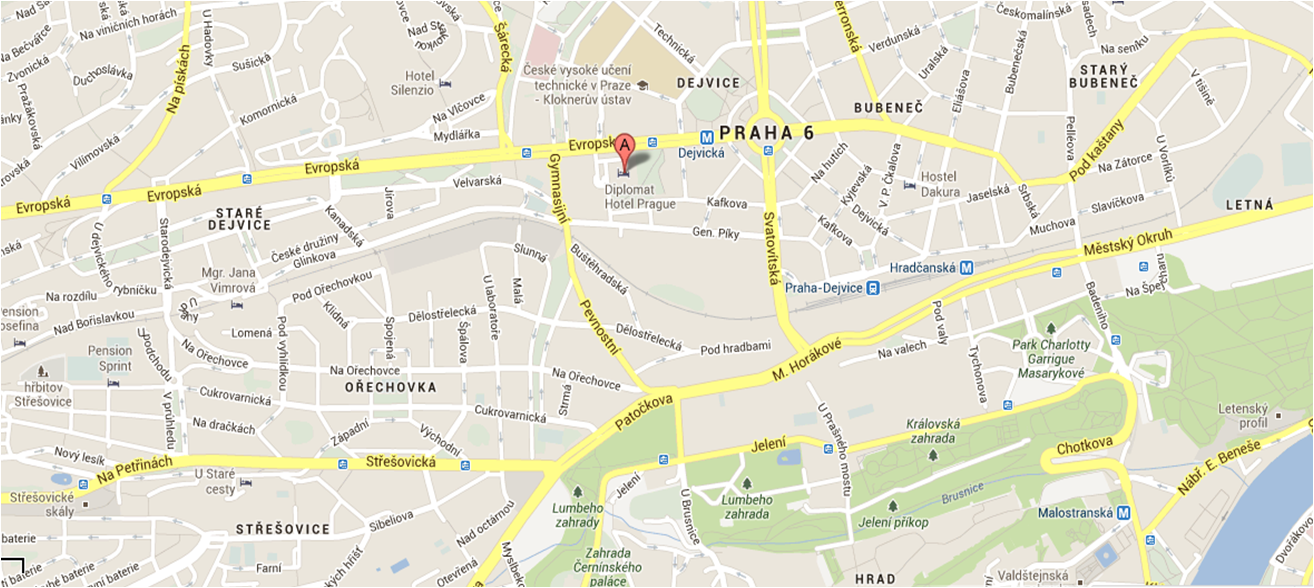 Useful information
Currency
The currency is in Czech Koruna (CZK):  100 CZK = cca 3.8 EUR   -  declared FX rates
Weather forecast
Prague is situated in a temperate climate zone with pleasantly mild summers and winters with only moderate amounts of precipitation. The average annual temperature ranges from 5°C (4 to 10°C. The average temperature in the summer varies between 23°C and 29°C, the average temperature in the winter varies between -11°C and 0°C.   - actual weather forecast
Local time zone
Central Europeran Time (CET) +1 hour   -  current local time